Patient Portal Information

A patient portal is a secure online website that gives patients convenient 24-hour access to personal health information from anywhere with an Internet connection. Using a secure username and password, patients can view health information such as: Recent doctor visits and Immunizations.

TIPS FOR GETTING STARTED
• Create a unique e-mail address for each child.
(Each e-mail address will be the User Name for that child)

• Think of an easy password to remember that is at least 8 digits and alpha numeric with a special character (You can have the same password for all the children)

• When you are ready to web enable the children, download the Patient Portal Consent Form and fill out the E-mail Registry. You can bring it to your next appointment or fax it to us at (847) 296-6435.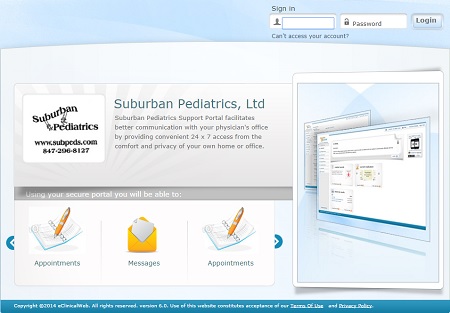 PATIENT PORTAL STEPS:
Sign the Patient Portal Consent Form and fill out the E-mail Registry.
Then send to Sub Peds


Sub Peds will enter email address and web enable patient


(Optional) Sub Peds prints users information and temporary password and gives to patient


Patient will receive an email to each of the email addresses set up for each child


Log in using User Name (email address) and temporary password.


Use Date Of Birth to validate account


Set up New Password and Security Question


You are finished – keep email address and passwords somewhere safe for future use.
TROUBLESHOOTING

Call (847) 296-5205 if you have trouble logging in.